GREAT NEWS!
2008 Rates are still in effect! I haven't raised my rates in a long time, but I will soon. If you book a trip before I make the change, you lock in the old rates.
Call Toll Free
1-888-462-1521
Recommended by Anchorage Alaska's
"Best Fishing Places"
Specially Priced Vacation Packages for Father & Son Fishing Trips.


Alaskan salmon fishing on the Kenai River. Complete fishing packages that are as close to being All Inclusive as any you will find.
Affordable Kenai Alaska Cabin Rentals with Special Offers for Kenai River Salmon & Trout Fishing with Soldotna Alaska Resident Master Fishing Guide,
Tyland Van Lier.
Call Toll Free
1-888-462-1521
Home - Kenai Cabin Rentals - Rental Equipment - Alaska Salmon Fishing - Kenai River Cabin Rentals -
Affordable Kenai Cabin Rentals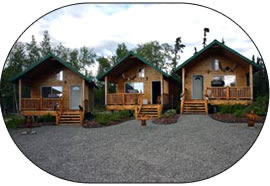 Alaska, it's the land of many dreams. It's the place where men can experience their inner most desires for doing battle with the worlds largest Wild Alaskan Salmon, the mighty Kenai River King Salmon read about in every sporting magazine on the planet.
To really make the experience special, round out your adventure by staying in one of our affordable Kenai log cabin rentals with hand carved wildlife accents, mounted antlers and more to really give your Alaska vacation and photographs the aura of the "trip of a lifetime".
Affordable Rates on Alaska Lodging
Wondering why you don't see our rates posted on this site? Our competition would hate us and this could have
Mid Week and Seasonal rates may also be available at a special price. You may also want to check out to see if their are any Weekly Specials being offered, they become available if and when we have a cancellation date to fill.
Full Housekeeping + Low Daily Rental Rates = Affordable Alaska Lodging
See our Current "Deals of the Month" on the left side of this page. FULL DAY FISHING WITH REGISTERED GUIDE! CALL FOR DETAILS!
Call Today For Your "Free No Obligation Quote"
1-888-462-1521
Affordable Alaska Fishing Vacation and Monsterous Alaska Salmon Fishing Trips for the whole family at a budget friendly price.
Affordable Kenai Fishing & Lodging
PO Box 2357
Soldotna Alaska 99669
Toll Free : 1-888-462-1521
Local : (907) 252-5464